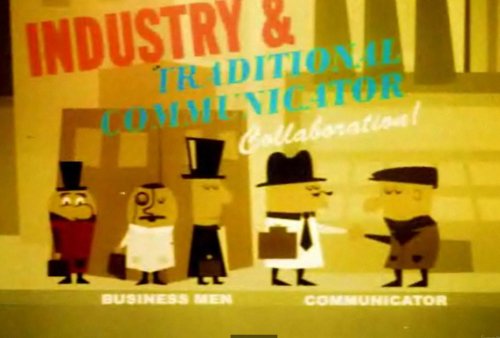 The new Interactive Art Director
site
is really lovely. Don't take our word for it, it seems like the site is getting more internet support than Ron Paul right now.
Leading tech weblog
Boing Boing
, currently ranked fifth in the world by Technorati, writes:
A group of students at an "Interactive Art Director" course at Hyper Island in Sweden have produced a pitch-perfect "educational film" about their field; the short's a great little homage to the golden age of industrial films.
Motion graphics authority
Motionographer
writes:
Swedish design school Hyper Island has launched an interesting new 32-week Interactive Art Director Program.

While the objectives and assignments are built around interactive projects, the interesting bit is Hyper Island's decidedly forward-thinking attitude about decompartmentalizing the learning process. Instead of asking students to piegonhole themselves as motion or interactive or graphic designers, the program basically throws everything at students and allows them to develop their interests and strengths over time.

By rooting all the projects in online experience, HI grads should be well prepared for the reality of shrinking broadcast and print budgets. As with any program like this, everything hinges on the students (not, as is often believed, the teachers or facilities). If HI has attracted the right kids with the right drive, everything else will fall into place.

Four students built the IAD site itself, proving that HI at least is willing to stand behind their pupils. Let's see what the rest of them can do.
Patrick at
Dog Opus
writes:
Behold the cutting edge design education of tomorrow, available to an elite few right now: Interactive Art Director '08
I can't see myself in this sort of environment (I am simply not hip, beautiful, or pretentious enough), but I's shure do like watchin' them there movin' pitchers. Seriously, I love the Flash animation. Superb.

Belgian designer
Grapplica
writes:
Hyper-Island is a two-year university course in Sweden focused on on-line related technologies, products, services and businesses. As far as I know the only University on earth to lecture on Interactive Art Direction. They've recently launched their course targetted website.

The
TP Wire Service
by PR and management legend Tom Peters, voted second most influential leadership professional last year by Gurus International, lists the site on "The latest headlines on the stuff that matters".
Hotwebber
puts the site on their listing of "The hottest websites on the net".
Belgian web design portal
Irie
featured the site on their "outstanding websites" page and it's readers has voted the site the fourth best out there at the time of writing, with an average score of 4.5/5.
British based web/graphic designer
Matt Northam
writes:
If you've never heard of Hyper Island, then I question your commitment toward being the source of all knowledge regarding Swedish design schools. However, if that's not a aim of yours, then fair enough.

But really though, you should know about Hyper Island (and their illustrious graduates). As a incredibly small example of how cool it would be to attend there - their building is an old prison. I find that cool :)

They've recently unveiled a new course packed to the brim with things that are undoubtedly going to produce another wave of stupidly talented interactive media professionals. Following a cursory glance of their website, it sounds like the course that I'd jump at if I had the chance and someone else would fund my mortgage for the duration. It's crazy stupid dope (that's good). The website has been done by some current students. It says it all. Oh to be young again ;)
Finally, the site has been linked from a wide range of blogs and web portals, including:
Joshwebb
Design You Trust
Bulls Eye
What Should I Name This?
Today Nominateds' Comics section
Reform Revolution
Update or Die
Whye We Rock
Sebastian Suarez-Golborne